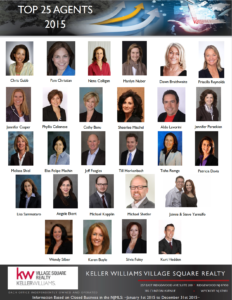 For the second year in a row, Michael Shetler has made the list of Ridgewood's top agents at Keller Williams Village Square Realty (KWVSR.) Michael has been selling real estate in the area for 10 years and is an investor in the office. He also serves on the office's Agent Leadership Council, an agent "board of directors" actively involved in the leadership decisions that make the office more productive and profitable.
Michael lives in Glen Rock with his family and has been serving real estate clients in Ridgewood since 2005. He earned the NJAR® Circle of Excellence Sales Award in 2009, 2011, 2013 and 2014.
Michael Shetler is an aggressive online marketer, with websites BuyingInBergen.com, BuyInBergen.com, Ridgewood-NJ-Real-Estate.com, Saddle-River-Grand.com, GlenRockSquare.info and BeautifulGlenRock.com, among others.
Keller Williams Village Square Realty was the number one ranked real estate office in the New Jersey MLS (NJMLS) in 2015 with 869 transactions worth a dollar volume of over $500 million.*
For more information about top Ridgewood agent Michael Shetler, Keller Williams, call 201-421-0506 cell or 201-445-4300 x231 office.
*source: NJMLS Market Share Report. Listing and Selling Statistics Office Share as of 1/6/2015