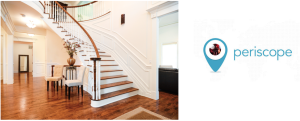 Keller Williams Village Square Realty agent Michael Shetler didn't think it was appropriate to bring the general public to his Saddle River open house.
So he took his Saddle River open house to the public.
Last Sunday, he hosted a live broadcast from his listing at 126 Cortland Drive in Saddle River Grand using the new social media app Periscope.
Periscope, a Twitter company, launched just five months ago and already has 10 million registered users. It's a platform which allows any registered user to host a live video broadcast using the camera and mic on their mobile device — tablet or smartphone, Apple or Android. The app works using a cellular connection, no high-speed network is required. To download Periscope visit www.Periscope.TV.
Shetler is able to "show" the house using streaming audio and video live to whomever is tuning in. His followers receive an alert when his broadcasts begin. Viewers are able to send in their questions and comments during the broadcast, along with "hearts" viewers send when they see or hear something they like.
Joining him to help show the Saddle River Grand townhouse was architect/designer Aparna Vijiyan from Ulrich, Inc. Vijiyan designed many of the high-end kitchens in the development.
Shetler also shared the broadcast with Shane Force, a Mortgage Consultant and Sales Manager with Atlantic Home Loans.
The recorded video is available on Periscope for 24 hours following the broadcast. After that, Shetler plans on having it available on YouTube (www.YouTube.com/mshetler.)
In addition to the live open house, Shetler is marketing his listing using a 3-dimensional home tour, available online at Saddle-River-Grand.com. 3-D Home Tours are created using a special laser camera that records both photographic images and space geometry. The result is a realistic 3-D model that can be viewed online without any special software or glasses. Buyers have the ability to "walk" through the dwelling, going into every room and seeing the space in 3-dimensions. The buyer gets a true sense of the scale and floorplan while engaged with the tour.
The Live Periscope Broadcast and 3-D Home Tour are part of Shetler's digital marketing strategy that helps sell homes faster and for more money. Shetler uses advanced online marketing techniques to proactively reach a targeted audience rather than waiting for buyers to find the listing on their own.
For more information about buying or selling in Bergen County call Michael Shetler at 201-421-0506 cell, or 201-445-4300 x231 office.
About Michael Shetler:
Michael Shetler is a real estate agent recognized for patiently, skillfully and diligently helping residential buyers and sellers in Bergen County. Since 2005, Michael has been a full-time REALTOR® based in Ridgewood. He earned the NJAR® Circle of Excellence Sales Award® in 2009, 2011, 2013 and 2014 and ranks in the top 7% of the 200+ agents in his office. Michael is a Glen Rock resident.
About Keller Williams in Ridgewood: Keller Williams Village Square Realty is the number one ranked real estate office in the New Jersey MLS (NJMLS) based on both sales volume and sales units (2013, 2014, YTD 2015). Located at 257 E. Ridgewood Ave in Ridgewood, NJ, the office has more than 200 real estate agents. For more information see http://BuyingInBergen.com/keller-williams-ridgewood.
About KWRI: Austin-Texas based Keller Williams Realty, Inc. is the largest real estate franchise by agent count in the world with 700 offices and 125,000 associates across the Americas, Europe, Africa and Asia. In 2015, Training Magazine named Keller Williams the No. 1 training organization across all industries in the world.
Since 1983, Keller Williams has grown exponentially and continues to cultivate an agent-centric, education-based, technology-driven culture that rewards agents as stakeholders. The company also provides specialized agents in luxury homes, commercial and farm and ranch properties.
For more information on Keller Williams, visit www.kw.com. (www.kw.com).
Contact:
Michael Shetler
Keller Williams Village Square Realty
http://BuyingInBergen.com
Twitter @BuyingInBergen
257 E. Ridgewood Ave
Ridgewood, NJ 07450
Ph: 201-445-4300 x231
Ph: 201-421-0506 cell
###